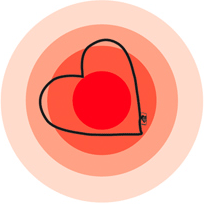 Hug Me
When hugging My Beating Heart, the physical heartbeat may remind you of hugging a purring pet or loved one. Hold the Heart a moment and you'll begin to sense your own heartbeat slowly syncing with My Beating Heart's carefully designed rhythm.
A Dancing Beat
An amazing thing about My Beating Heart is that everytime you turn it on, an entirely unique heartbeat rhythm is created. In fact, every rhythm itself gradually changes and subtly dances, algorithically modelling the heartbeat in a deep meditative state. This isn't a pre-recorded rhythm and this isn't a "heartbeat sound." This is a physical heartbeat that realistically changes over time.
Our hearts naturally begin to dance and sync with the hearts of other we hold or hug. This is a phenomenon we have observed for ages. Hugging the Beating Heart a few minutes allows the calm and dreamy beat to relax the body, ease the mind, and cajoles the spirit.
Haptics for the Heart, Made with Meditation
My Beating Heart employs new advances in computer science, Artifical Intelligence, and haptic design. But we also developed the technology inside each Heart by combining the practice of meditation and yoga with software and hardware development. This lead us to design a small micro-computer to run of out specially made software.

As you hug My Beating Heart you may notice subtle changes to the heartbeat. Our "secret sauce" technology is at work inside algorithmically modeling the human heart in a deep meditative state. Your own heart would only beat as slow as My Beating Heart's if you were in a very deep sleep or in a very deep meditation. The changes are slight but we think they are powerful in helping people relax and become more aware of themselves and their surroundings. Each Beating Heart rhythm is entirely unique and we truly hope you enjoy yours.
Turn it On
Turn the Beating Heart on simply by squeezing the heart on the logo. You'll notice the label blink and the heart will spark to life. Once on, My Beating Heart can be turned off again by squeezing the label, or it will turn itself off after 20 minutes.

Safety
Safe for Children 3+. Safe for playful adults. We work carefully and zealously to make sure My Beating Heart meets or exceeds the highest US and European safety standards, EN71 and ASTM F963.
Battery Included

My Beating Heart runs on one 9-volt battery. A fresh the Beating Heart should last you 6-12 months.
Care Instructions:
You can spot- or surface-clean My Beating Heart with mild soap and water. When cleaning, be sure that the Heart is turned off. Since each Heart has electronic components inside it, machine-washing will break your Beating Heart.
How to restart My Beating Heart
The Beating Heart has a tiny computer inside. Sometimes computers crash, from too much love. On the rare occasion a Beating Heart will not start, beats irregularly, or acts strangely reboot its computer. To reboot the computer, simply find the battery box inside the zipper pocket. Turn the power switch OFF then ON again. You'll see the Heart reboot and work perfectly again. After restarting the computer, if the Beating Heart continues to act strangely it's time to change the battery.